Saturn I Drawings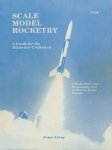 Dimensioned drawings of the Saturn I (Block 1 and Block 2 vehicles) and the Saturn IB are provided in Peter Alway's Rockets of the World, Fourth Edition , which is available through NARTS.  The drawings in Rockets of the World are not nearly as detailed as those in Peter's first book, Scale Model Rocketry: A Guide for the Historian-Craftsman (1990), now long out-of-print.  As of December 2008, Peter is graciously allowing me to post his Saturn I Block 2 drawings on our Meatball Rocketry site, at least until the drawings can be published again for sale.  So for those who have been longing for something more substantial, your wait is over.  Click on the page thumbnail below for a PDF file containing the Alway drawings.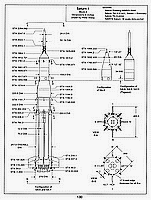 Note that there is no color scheme page printed ( Scale Model Rocketry p 131); the scheme contains several errors that were subsequently fixed in Rockets of the World.  I suggest you refer to that source, as well as NASA photos, for color pattern and markings.  Other numbered pages that appear to be missing contain no drawings, only photos.
Saturn I Data Discrepancies
There are a few data conflicts between the drawings by Peter Alway and some other data sources.  I will post brief discussions of these discrepancies as time allows.
---
Saturn I Photo Links
NASA images of varying quality can be found at www.apolloarchive.com.  Look under the image gallery section titled Early Apollo.
Look for some interesting illustrations and photos such as this in the Saturn Illustrated Chronology.
Medium quality detail photos of the Saturn I at the U.S. Space & Rocket Center in Huntsville, AL are available by clicking here (scanned photos by Josh)
Much better photographs of the Huntsville Saturn I and other rockets can be found at HistoricSpacecraft.com.
---